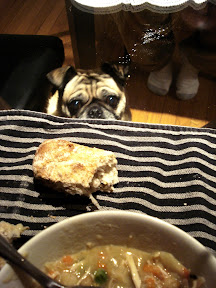 Hi peoples, Brigitte here. I am collaborating with Wilma today to share what we do to help the humans enjoy their meals. Although they say it is pretty hard to enjoy a meal around here with a bunch of pathetic moochers staring them down. Hey look, we aren't the ones who bought a glass dining table.
This post will make a nice companion to our girl
Sequoia's
methods of extracting treats out of the humans. If you follow these guidelines, there is nothing you won't score.
I also wanted to show you this shot of my ziggy zaggy that Mom took from her perspective of me working Dad for some crumbs. It started when I was about 4 or 5. Do any of you have a permanent wave like mine? We have never seen any one with one like it. I am going to turn it over to Wilma now, observe the master.
"Look at me, you are getting sleepy. When I blink my eyes, you will break me off some of that nice crusty bread."
Yes, that looks good.
"Now, give me the rest!"
Any questions, let us know.