Hi everybody! This here is Sluggo. I got a big favor to ask of you all.
See, yesterday was our meet up, and because Dad was out being a rock star the night before...
At a real brewery, he was feeling a little sluggish yesterday morning.
Mom didn't want to blow off the meet up, but she was not up for another clown car ride with a full pug crew. Since I am the most neurotic, and the one who would be most detrimentally affected by her absence, I got to go with her to the meet up. Talk about positive reinforcement for negative behavior.
In order to get away with this excursion, we had to construct an elaborate ruse. Since Murphy and Duke would be at the meet up, it wasn't a far stretch to say we had a regional meeting. So that's what we did.
Mom didn't get too many good pictures. Mostly a lot of fawn and black blurs with various colors trailing applied.
That's the Duke of whirl running past Murphy.
Here I am making a new friend.
Duke hired a "dancer" check her out, half out of her clothes.
Murph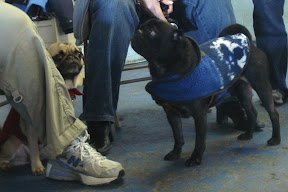 Murphy and Duke
I got this cool reindeer in the grab bag.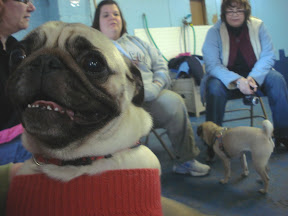 So, I gotta ask you, please, if not for me, than for Murphy...
Don't tell Wilma it really wasn't a Fire Hydrant meeting. She'll be totally p.o'd.